As for why I like Dixie so much. Check THIS out!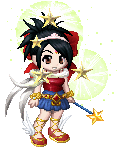 I'm sure many of you know the song that these icons were inspired by:




Yes I love Pee-Wee/Miss Yvonne, so sue me:




This one was designed by me but animated by
janey. If you use it be sure to credit her too!





This was the original version designed by me in color(they can be used separately)


Current Mood:
creative